I'm sure we've all noticed by now that the iTunes free track of the week is usually a hot, steaming pile of crap. When it's not the place where shitty music goes to die, it can occasionally be decent. Now and then, someone at iTunes Canada slacks off and actually lets a really, really awesome track slip through.
This isn't one of those tracks, but it
is
how I found this band -
Said the Whale
.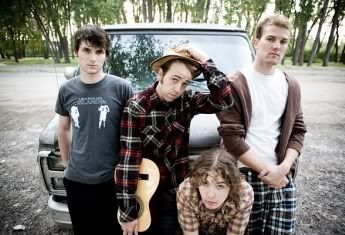 [Pictured: Said the Whale. Not pictured: actual whales.]
In mid-October 2009, the free track of the week was the band's
The Gift of a Black Heart
. I downloaded it like I always do and I was pleasantly surprised. Unfortunately, I have musical ADD and forgot about them fairly quickly. Every now and then I'd 'rediscover' them on shuffle, but it wasn't until Genius recommended their 2-track
The Magician EP
two weeks ago that they became a band I really, really wanted to learn more about. I guess it's kind of funny that it was the single B-side that I went so crazy over.
Carmelo (The Magician)
is a good song, but the real gem is
Love is Art / Sleep Through Fire
. The lyrics are pretty and the melody is sweet and flows very nicely. It doesn't necessarily sound like eight other songs I could name, which often happens when you listen to a lot of a certain genre.
Said The Whale formed in 2007 as a collaboration between songwriters Ben Worcester and Tyler Bancroft. The pair's debut EP, Taking Abalonia, featured sunny west coast indie pop, with breezy harmonies, shimmering guitars, and lyrical tributes to their home city of .* In 2008, the album was rereleased as Howe Sounds/Talking Abalonia, featuring seven additional tracks that stretched the band's stylistic palate to include bubblegum folk ("The Light Is You"), thundering hard rock ("Last Tree Standing") and gentle ukulele ballads ("The Real of It"). After several personnel changes, the group settled upon a five-piece lineup that includes bassist Peter Carruthers, drummer Spencer Schoening, and keyboardist Jaycelyn Brown. The quintet embarked upon a rigorous touring schedule, crossing Canada numerous times and landing high profile gigs at V-Fest 2008 in Calgary and the nationally televised Canada Day celebration on Parliament Hill.

-Source
[*Sorry, I was just excited for a second there.]
Here's a clip from a live version of this song. I couldn't find a full, streaming version of the studio track, which is one of the downsides to unsigned bands.
Love is Art / Sleep Through Fire
can be purchased through
iTunes
for $0.99, or as part of
The Magician EP
for $1.98.
So, in conclusion: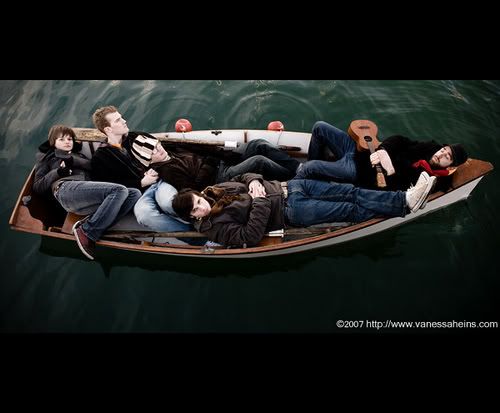 [Pictured: Said the Whale. Also pictured: cutie in white shoes.]
Links:
-
Official Site
-
Facebook
-
Myspace
-
Twitter
-
PureVolume
-
LastFM
[with videos]