This lovely man is Anthony Green. (He's also in my icon.)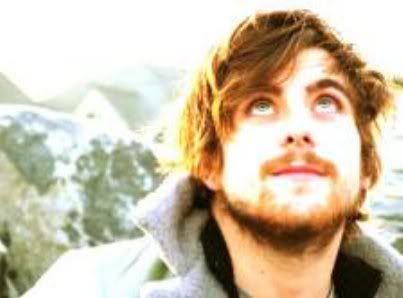 He sings in a band called Circa Survive. He also supports breast cancer research, and foundations like
Keep-A-Breast
. Here he is, making a plaster cast of his rack. Or rather, of the rack he no doubt wishes he had.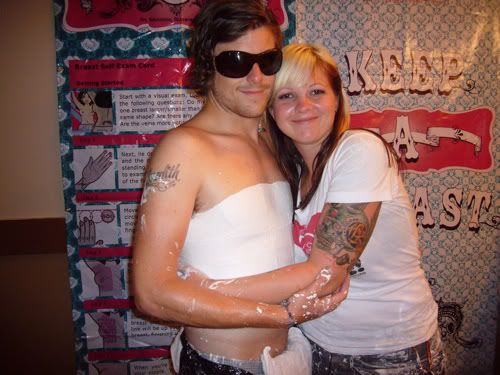 Anthony's side project is the whole reason I pushed for this week's theme. In 2008, he put out a solo album called
Avalon
. I heard about it via an e-mail update from My Chemical Romance and I kind of scoffed. Why the hell would I go and buy your friend's album? Also, it's pretty lame to use your fan base like that. Well, I was a fucking idiot because the love I have for this man knows no bounds.
I don't even remember how I ended up hearing a song from Avalon, but I suspect that I came to Circa Survive first. I'm pretty attached to
Act Appalled
(
Juturna
) and
The Difference Between Medicine and Poison is the Dose
(
On Letting Go
). Chiodos was playing Warped Tour the last time I went and since I'd gotten a magazine with both Craig Owens and Anthony Green on the cover, I decided to check out some of his stuff, too. I like Circa Survive well enough, but Anthony's solo stuff is golden, in my opinion.
His voice isn't for everyone, which is something that drives me nuts because people are way too quick to brush him off. If you give him a chance, you'll probably really enjoy his music. While Circa Survive is pretty loud, Avalon is full of slower, calmer, songs - though that's not to say that it's all a bunch of ballads. It really isn't. I can't really compare it (or him) to anyone in particular because I have no clue who he might sound like. Now that I've said that, someone will no doubt school me with a list as long as I am tall, but I don't really care.
To record the album (and later to support it), he played with
Good Old War
, another favourite of mine. (He later returned the favour on
Weak Man
, off GOW's
Only Way to Be Alone
.)
The best song on Avalon also happens to be the shortest.
Slowing Down (Long Time Coming)
clocks in at 1:44, but it's an amazing little song.
It also has lovely
( lyrics. )
.
Along with Avalon, you get the High and Driving EP, which includes several demos of Avalon songs. It's always interesting to see how songs may have changed from that starting point. Between the demo and the album versions, I've listened to
Slowing Down (Long Time Coming)
150 times. I'm still not bored of it. I'm still not 100% sold on the
Colin Frangicetto remix album
, particularly on my favourite song, but I'll give him another listen and try to be objective.
There's another Circa Survive album coming soon, but after that Anthony plans to work on his next solo effort,
Beautiful Things
. I'm pretty excited for that.
Links:
-
Last FM
(with performance video)
-
MySpace
(LOL, username used to be
moshtradamus
)
-
Twitter
-
Facebook