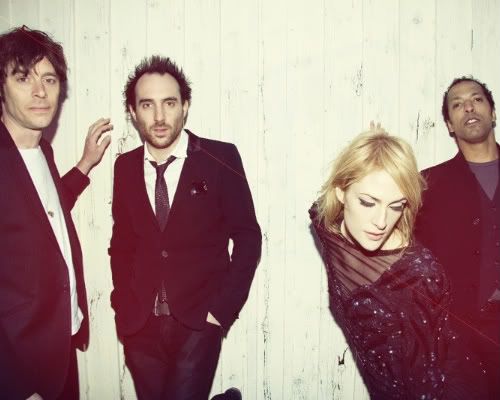 This is Metric an indie rock/new wave band hailing from the great land of Canada. They are Emily Haines (vocals, synthesizer & guitar), James Shaw (guitar & theremin), Josh Winstead (bassist) and Joules Scott-Key (drummer). They started in Toronto but have been all over the world at various times.
Background Info:
Wikipedia
Offical Site Bio
I found them thanks to My One True Radio Station, aka the
Alternative Channel
on
Music Choice
. They kept playing
"Help I'm Alive"
and finally I just had to find out more about the band that made this song I liked so damn much.
So first I hit up RCRD LBL's site to see if they had a listing for Metric, which they did:
Metric page on RCRD LBL
Happily, they had two, not just one, songs available to stream & download. I've embedded the streaming player here, or you can just click on the link above.
Additionally, you can get an acoustic version of their song "Gimme Sympathy" by joining their mailing list:
At that time Lala.com was still alive, and so I used some of my sign-up credits to 'buy' the streaming version of their album Fantasies. I fell in love. It was utterly delightful. I liked every single song and that is one of the things that's really special for me. I want to be able to enjoy the entirety of what an artist/band has to offer, and with Metric that was no problem at all.
Here again was a female-lead band that played the music I enjoyed and had lyrics that didn't depress me. And on top of that, they're really good. I do hope you'll give them a chance.
Important Links:
Official Site
Myspace
Twitter
YouTube
Buy Metric's Fantasies:
Metric's Webstore
Amazon [
CD
] or [
MP3
]
iTunes
All Other Merch